News
War in Ukraine sends steel prices skyrocketing again
Issued at 2022-03-16
Tweet
Steel inventories might soften the blow a bit for buyers and metal fabricators.
It seems all the swans are black now. First a pandemic. Now war. You don't need a reminder from Steel Market Update (SMU) on the terrible human suffering caused by each.
I said during a presentation at the Tampa Steel Conference in mid-February that the word unprecedented was getting overused. I was wrong, unfortunately. The manufacturing industry might be past the worst of COVID, but the fallout from the war in Ukraine might have the potential to shock the market just as much as the pandemic.
What is the impact on steel prices? Looking back at what we wrote not too long ago—which feels like it was written in another galaxy now—prices were falling fast, but it was risky to put anything in writing for fear it would be out of date by the time the article ran.
The same is true now—except replace falling prices with rising ones. First it was on the raw materials side, and now on steel as well.
Don't take my word for it. Just ask a European or Turkish steelmaker or automaker what they're seeing right now: shortages and idlings because power costs are too high or because basic material is in short supply. In other words, availability is becoming the primary concern and pricing a secondary one in Europe and Turkey.
We will see impacts here in North America, but, as with COVID, on a bit of a lag. And perhaps to a lesser extent because our supply chains aren't as interconnected with Russia and Ukraine as those in Europe.
In fact, we are already seeing some of those ripple effects. Our latest hot-rolled coil price was at $1,050/ton when this article was filed in mid-March, up $50/ton from a week prior and breaking a six-month string of flat or downward prices going all the way back to early September (see Figure 1).
What changed? Nucor in early March announced a price increase of $100/ton after announcing another of $50/ton in late February. Other mills followed either publicly or quietly lifted prices without any official letters to customers.
On a nuts-and-bolts level, we recorded some lingering deals at "old" pre-increase prices of $900/ton. We'd even heard of some deals—prior to Russian forces invading Ukraine—in the $800s/ton. We are now seeing new increases of as much as $1,200/ton.
How can you have a $300/ton to $400/ton spread within a single pricing session? How did the same market that laughed off the Cleveland-Cliffs price increase of $50/ton on Feb. 21 take a Nucor increase of twice that amount seriously just two weeks later?
The answer to that, unfortunately, is all too obvious: Russian forces invaded Ukraine on Feb. 24. And we now have, at the very least, what will probably be a protracted war between two important iron- and steelmaking nations.
One place on the supply chain where the U.S., Russia, and Ukraine are intimately interconnected is pig iron. Electric-arc furnace sheet mills in North America, like those in Turkey for that matter, rely heavily on low-phosphorous pig iron from Ukraine and Russia. The only other near-term option is Brazil. With pig iron in short supply, prices are rising so fast that I hesitate to mention numbers here because they'll almost immediately be out of date.
Indeed, price for pig iron (and slab too) are approaching the selling price of finished steel. There are also shortages of ferroalloys, and it's not just metals prices that are shooting upward. Prices for oil, natural gas, and electricity are too.
As for lead times, they fell to less than four weeks in mid-January. They held there through February, and on March 1 popped above four weeks again. I've been hearing more recently that some mills are already at five weeks. I would not be surprised if lead times continue to extend as companies come back into the market to buy. No one wants to buy until the market hits a floor. We've already hit that floor over the last few weeks and are now bouncing back up again.
Why am I sure of that? For starters, U.S. prices have gone from being the highest in the world to among the lowest. Also, people had mostly stopped buying imports because there was an assumption that domestic prices would continue to fall and that lead times would remain short. That means there is probably not much additional supply on the way. And what if the U.S. starts to export steel? That had been an interesting thing to think about over the long-term just a month ago. It's now a real possibility in the short-term.
One saving grace is that inventories are not as low as they were when demand snapped back in the early days of the pandemic (see Figure 2). We've gone from about 65 days at the end of last year, which was high, to about 55 days more recently. But that's still a lot higher than the 40 to 50 days of supply we saw in the first half of last year. Remember it was when supplies were around that 40 to 45 days that availability became a secondary concern to price—resulting in soaring steel prices.
So give your inventory a big hug. It might be offering you at least a temporary buffer against the volatility that's likely in store for us over the next few months.
Steel Market Update Events
It's not too early to put the next SMU Steel Summit on your calendar. The Steel Summit, the biggest annual flat-rolled and plate steel gathering in North America, is set for Aug. 22-24 in Atlanta. You can find out more about the event here.
For more information about SMU or to sign up for a free trial subscription, email [email protected]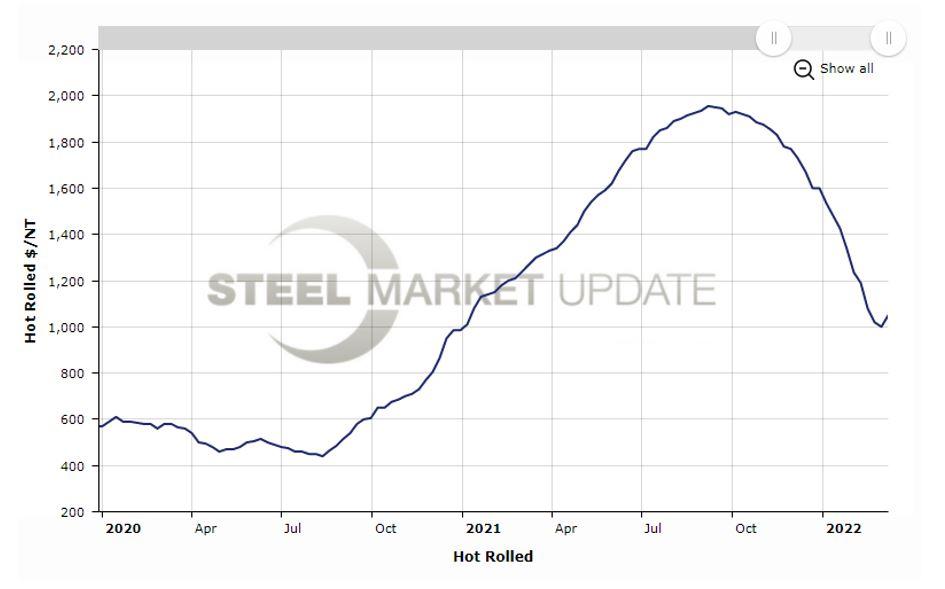 Source:
The Fabricator
Tweet